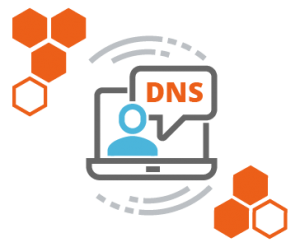 Many business owners are unaware of the importance of their DNS (a/k/a Name Service) to the smooth functioning of their presence on the Internet. Officially, the Internet runs on these things called IP Addresses. (Your PC at home has one, Google's servers have them and, even, your iPhone has one.) DNS Servers are like the Telephone White Pages — when you look up a business (or person's) name, it provides you with a number. 
Some owners have been lead to believe that DNS Management must be handled by your Domain Registrar. Not only is this untrue, but except for all but the simplest domains, having the services of our experienced webmasters on your team will save you hours of frustrating calls to their Customer Service Department.
We offer a full-range of DNS services, each at flat-rate prices. And you will always speak with a webmaster, not a Customer Service Rep.
Domain Name Services: Managed DNS
Our Managed DNS service provides your domain with 13 different records types (A, CNAME, ANAME, MX, HTTP REDIRECT, TXT, SPF, PTR, NS, SYSTEM NS, AAA, SRV, CAA),  unlimited records,, unlimited queries, 5 geo-redundant server clusters and a 14 year uptime record. Subscriptions are priced per domain.
Domain Name Services: Secondary DNS
Our Managed Secondary DNS Service is not simply a failover service for your DNS but a Shared DNS service. It shares the Authoritative Role (a/k/a SOA) with your Primary DNS, so that queries can be provided by either DNS server. Subscriptions are priced per domain.
Domain Name Services: Dynamic DNS
Our Managed Dynamic DNS Service provides a full-time name to your routers, video cameras, and IOT devices which do not have a full-time (a/k/a Static) IP Address. Subscriptions are priced per domain
Domain Name Services: Current Options
Atlantic Webs provides a full suite of services including DNS Analytics, Global Traffic Direction, DNS Monitoring With Automatic Failover, and Professional Design Services.
---
Want more information ? Go to our Presales Knowledgebase or email Presales@Atlanticwebs.com..
.